Tired of carrying garage door remote with you every time you want to open or close garage doors? In that case, you should get garage door keypad.
Keypad is basically garage door remote control that you can put anywhere in the house and outside of the house. That way you always know where it is. You can control multiple garage doors or gates. You can use it in combination with normal Garage Door Clicker or without.
Using keypad is very easy to use. All you have to do is type in your unique four-digit code and press enter button and garage door will open, close or stop. Whatever you want them to do.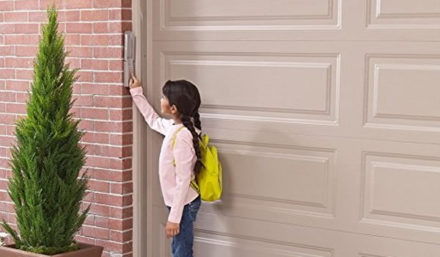 You may ask your self why Garage Door Keypad have four digit code and not just close/open button? Because you can put your keypad anywhere inside or outside of the house anyone could open your door. And you don't want that. Because of the four-digit code, only persons that you gave your code can open your door.
Another good reason to have keypad is that you don't have to carry your remote with you every time you want to open your door or gate. This is especially practical when you are working around your house and you need to go into your garage.
You can do more than just open one garage door. You can operate with multiple garage doors and gates. All you need to do is to program individual four-digit code for every door or gate.
If you have a garage door or gate openers from different brands you can still use just one keypad. But in this case, you need to buy Universal Garage Door Keypad. Chamberlain's Clicker Keypad is one of the best. You can operate with all major garage door and gate openers in the market today.
Garage door keypad safety concerns
Garage Door Keypad is very safe to use. If you own garage door remote you most likely already asked yourself "what if I lost my remote? What if someone still my remote and try to enter my garage?" This can't happen with the keypad. You can't just lose it, because is mounted to your wall and you also have to know a four-digit code to open the door.
Because the four-digit code is unique for every door, there is almost no chance that someone will just guess your code. Keypads are wireless, so no one can cut your cable and make contact to open your doors. That is one of the best safety features that keypads have it.
Keypads are charged with the 9V battery so you don't need to do any cable installation. Because of there backlit they are easy to use at nighttime. To install them you only need two screws and you don't need to be an expert to do it.
How to programme it + safety tips
Programming Garage Door Keypad is very simple. In most cases, you just type in your personal four-digit code, after that you press programming button on the opener and after that, you press Enter button on the keypad. And that's it.
You can change your personal code at any time you want. When choosing your personal code to keep in mind this warning. Don't use just some easy to think of numbers like 1234 or 4321. Because this will be the first numbers that anyone will try. Try to think of something unique to you, but don't use your, partners or children birthday date. Also, try to avoid your anniversary date.
Knowing all that, you can use your Garage Door Keypad in the safe, practical and fun way.