Finding the exact keypad model you need can be hard at times. In this, I'll show you how a universal garage door keypad can be a lifesaver and help you understand how it compares to others.
By the end, you'll know how and where to find a keypad that works with your garage door every time. However, you don't even need to look for them. I made you a detailed list of the best universal garage door keypads.
To make it even better, you even get answers to the most frequently asked questions about them. In case you want to jump ahead, here's a list of topics I covered.
No time to read? Here's my #1 pick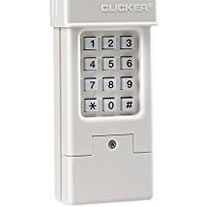 Best Universal Garage Door opener Keypad
Chamberlain KLIK2U-P2
You will get an affordable, but reliable universal wireless garage door keypad that works with most garage door openers.
It's easy to install, safe, and practical, giving you all you need for easier garage access.
Are Garage Door Keypads Universal?
The thing with garage door keypads is that most of them only work with just one model or brand. They are set up to use just one frequency, but almost every door opener uses a different one.
This way, you are forced to buy the same brand and model if something breaks. Do you see what they did there? You can also get into a situation where that model is not being made anymore.
Your other option is to get a universal keypad and set it up to work with your garage door opener. Being universal also doesn't always mean it works on every single frequency. When buying such a keypad, make sure it's universal and that it works with your opener's frequency and brand.
4 Things to Check Before Buying Keypad
I always say that preparation is key, so here are a few things you have to be aware of before buying a universal keypad.
Check opener: Everything depends on your garage door opener. You need to check the garage door opener brand, model, and series to find a compatible keypad.
You'll notice that most keypad manufacturers list the brands and series that they do or don't support. However, you shouldn't just rely on this information, frequency is important too.
Check frequency: Almost any opener should have a marked label with the frequencies they support. Make sure to remember or write down this information when choosing a keypad. Sometimes, even the openers from the same brand don't use the same frequencies. So make sure to double-check this info.
Wired or wireless: Most of the models that you will see below are wireless, but you also can opt for a wired keypad. Each has its benefits. With wired ones, you need to do some mounting work, but wireless also requires batteries to work.
How many garage doors: If you have more doors, you don't necessarily have to get multiple keypads. Most of the keypads on this list will allow you to program 3 to 10 door openers.
Best Universal Garage Door Keypad on The Market
Price
Model

1. Chamberlain KLIK2U

Sliding cover
Works with Chamberlain, LiftMaster, Craftsman, Genie, +more made after 1993
Easy programming

2. Genie GK-R

Works with all intellicode openers
Replaces Intellicode Keypads: GWKP, ACSDG, ACSDA1, GWK-IC, ACSD1G, B8QACSDA1, B8QACSDA
Controls up to 3 doors

3. Chamberlain 940EV-P2

Easy installation
Allows temporary PIN
Works with Chamberlain, LiftMaster and Craftsman (except series 100) openers from 1993 to present

4. Liftmaster 387LM

Weatherproof slide-up cover
Simple instalation
Works with most 300/310/315/372/390 MHz openers

5. Skylink 318KR keypad

Operates most national brand garage door openers
100 feet range
Easy to install

6. Chamberlain CLK1

Easy 3 button programming
Doesn't work with Genie Intellicode & Stanley SecureCode
1 year warranty

7. Skylink KN-1

Easy installation
Backlit keypad
Passcode lock timeout

8. Supreform IP68

Waterproof design
3 working modes: code, ID card or both
Backlit keypad

9. Genie GIRUD-1T

Upgrade your old opener
Everything you need is included in this kit
Alleviates frequency interference issues

10. myQ MYQ-G0301

Smartphone Control
Get notifiction when doors are open or closed
Secure guess access
I rolled up my sleeves and started testing. Stopped counting how many universal garage door keypads I tried with different garage door openers.
My goal was to find as many quality universal keypads as possible. Eventually, I ended up with the 10 best universal garage door keypad models that work with all or at least with most garage door openers.
1. Chamberlain KLIK2U-P2 Universal Wireless Keypad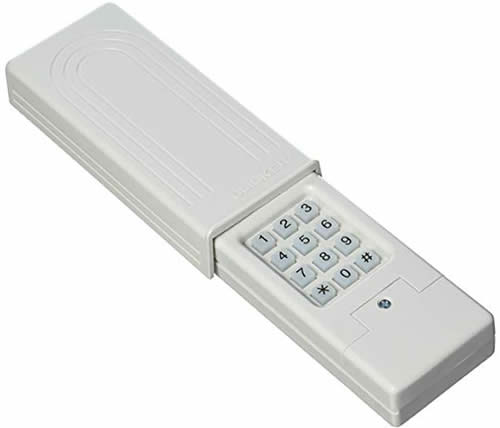 I'll start with one of my favorite models by Chamberlain. This universal garage door opener keypad is one of the best since it's compatible with almost all brands of garage door openers.
The keypad uses Smart Learn technology so it's easy to program and get it running. Chamberlain Clicker is completely wireless and it's powered with a 9-volt battery included in the package.
A neat sliding cover on top of it will help you not to worry about the weather too much. On top of that, the keypad is backlit, therefore easily used at night.
Thanks to its versatility it will support Genie, Linear, Moore-O-Matic, Stanley, Overhead Door, Wayne-Dalton, Craftsman, Chamberlain, LiftMaster, and other opener brands. Sadly, it does not support Sommer and Extreme door openers.
Reasons to Buy
High compatibility
Affordable price
Wireless connection
Backlit keypad
Bear in Mind
Doesn't support Sommer and Extreme
Cover hard to open
2. Genie GK-R Universal Wireless Garage Door Keypad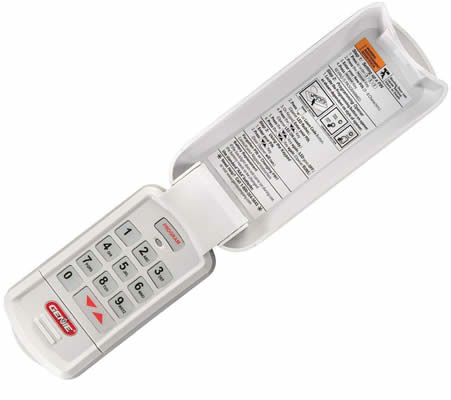 Even though it's not completely universal, it's still a universal wireless garage door keypad for all Genie door openers. Thanks to its recognizable intellicode technology, it keeps your garage safe and secure.
This model works with genie single or dual frequency openers newer than 1995. Frequency interference won't be a problem, thanks to its auto-seek dual frequency.
Genie wireless keypad is quite easy to install, just mount it with screws, which are already included. To help you navigate at night, the keypad is backlit and there's a flip cover for weather protection.
It's great that it also includes a temporary PIN if you need to give someone one-time access.
Reasons to Buy
Easy and safe to use
Simple installation
No wires required
Temporary PIN
Bear in Mind
Works only with Genie openers
Lighting not great
3. Chamberlain Universal Keypad 940EV-P2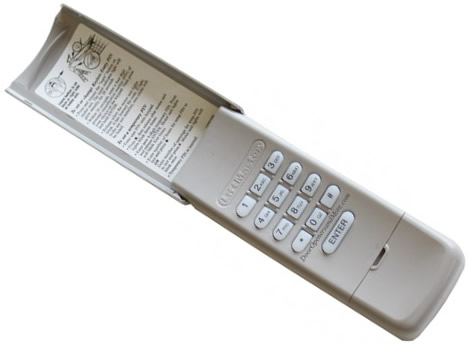 Here we have a Chamberlain, Craftsman, and Liftmaster universal keypad that works with all openers from these three brands since 1993. You can set it up in almost minutes after you get the delivery.
Thanks to the simple design, it won't stick out on your home and it comes with a weather protection lid. The keypad is illuminated too and there's also a single closure button to shut down the doors.
Give a simple temporary PIN to guests and deliver or repair people. No one has to be on standby.
To get it going you first have to locate the learn button on the opener. It's worth noting that this keypad is not compatible with the Craftsman Series 100.
Reasons to Buy
Easy to setup
Wireless operation
One-touch door closure
Temporary pin
Bear in Mind
Not working with Craftsman Series 100
Have to push "ENTER" twice sometimes
4. Liftmaster 387LM Universal Keypad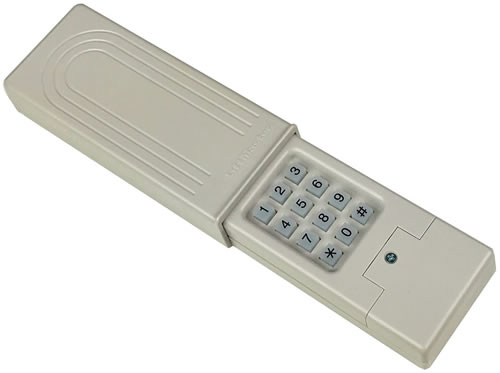 As you can see, it quite resembles the Chamberlain keypad from #1 on my list, at least visually. This Liftmaster 387LM universal keypad also works with almost all brands, including Liftmaster, Chamberlain, Genie, Sears, Craftsman, Stanley, Multicore, Moore-o-Matic, and Wayne-Dalton.
The installation is pretty straightforward, just mount it with 2 screws. Liftmaster 387LM will work at frequencies of 300/310/315/372/390 MHz. Since it's wireless, it will need a 9-volt battery to operate.
A handy slide-up cover will be great weather protection, especially in rain. But sometimes it's tricky to open it.
Reasons to Buy
Simple installation
Works with nearly all brands
Weather protection
Bear in Mind
Cover hard to open
The keys are hard
5. Skylink 318KR Keyless Keypad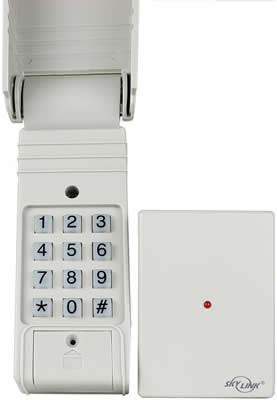 Unlike the previous one, this Skylink universal garage door opener keypad works with newer openers, covering most of brands.
It's more suitable to work with everything since it includes both a transmitter(keypad) and a receiver. They already come preprogrammed so it's easy to set up. Just connect the receiver to the opener and mount the keypad. It will work within a 100 feet range.
Lithium batteries come included, as well as a weatherproof lid to protect it from the elements.
Reasons to Buy
Works with all brands
Good range
Easy to set up
Backlit keypad
Bear in Mind
Need to mount the receiver too
Odd battery type
Thin wiring
6. Chamberlain CLK1 Clicker Wireless Keypad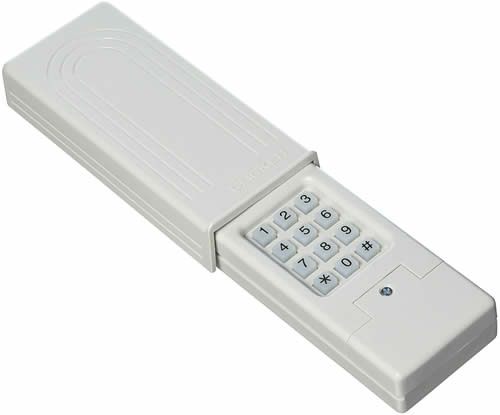 This universal keypad by Chamberlain will work with up to 80% of garage door openers, similar to Liftmaster universal keypad. Easy 3-button programming will help you get it running in no time and it's wireless too, so no need for mounting.
Sturdy white plastic housing comes with a sliding weather cover, designed to fit any house style. It's a great, affordable keypad, but it does not work for Stanley SecureCode and Genie Intellicode openers.
You can control two openers at once, even of different brands and the keypad is backlit too for better visibility.
Reasons to Buy
Works for 80% openers
Easy programming
Weather guard
Affordable
Bear in Mind
Not for Stanley and Genie openers
Cover is flimsy
7. Skylink KN-1 Universal Keyless Garage Door Opener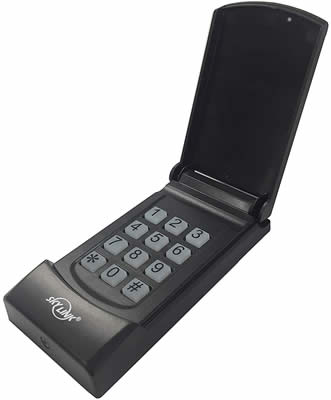 Here we have another system combining a universal keyless garage door opener transmitter and a receiver. Skylink KN-1 is one of the rare models that come in black if the color matters to you.
This high-quality keypad works with most national garage door opener brands, providing you with great security. It features a passcode lock timeout that blocks the keypad for 10 minutes after 10 incorrect PIN attempts.
Installation is quick and simple, just connect the smart button receiver to the opener and mount the keypad. The keypad is wireless and powered by low-cost AAA alkaline batteries.
Reasons to Buy
Easy installation
Compatible with most openers
Unique design
Passcode lock timeout
Bear in Mind
Need 12V-100mA adapter for old doors
Weak battery
8. Supreform IP68 Keyless Keypad Entry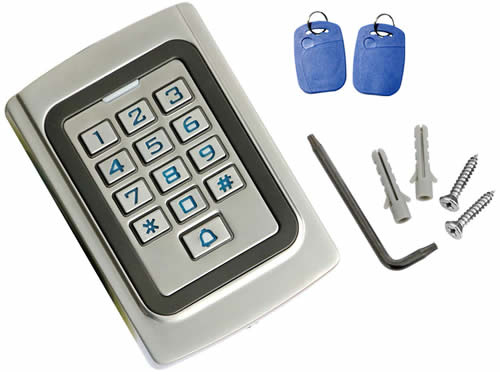 If you are not a fan of wireless keypads, this universal garage keypad entry by Supreform is the one for you. The keypad can be powered by 24VDC or VDC and the cable is fully sealed with epoxy resin and waterproof.
Works with both gate openers and door openers and it's compatible with most brands. The delay time of the output can also be set between 0.2 and 99 seconds.
If you worry about it getting ripped, it comes with an anti-vandal alarm that notifies you if messed with. The keypad supports three modes: Code, ID Card, or Code + ID card. You can program up to 2000 codes and ID cards.
Reasons to Buy
Super reliable
3 Working modes
Anti-vandal design
Waterproof
Versatile
Bear in Mind
Needs wiring
A bit bland design
9. Genie GIRUD-1T Garage Door Conversion Kit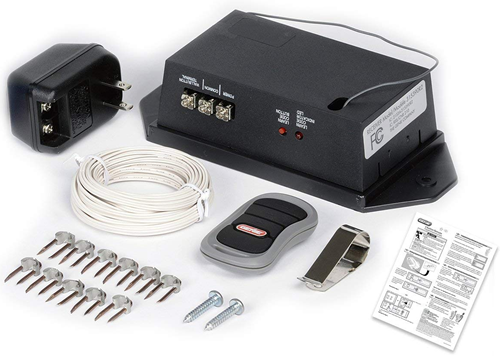 If you can't find any keypads that work with your garage door opener, this kit can help. Connect this receiver with your garage door opener and pair it with a universal keypad.
It alleviates frequency interferences and improves the opener range. This frequency kit also seeks frequency automatically, spanning between 315 and 390 Mhz.
It's a perfect upgrade for old garage door openers and it's compatible with most major keypad brands. You'll get all you need in this kit: receiver box, transformer, wireless remote transmitter, wire, clips, screws, and instructions.
Reasons to Buy
Perfect for old systems
Works with most brands
Auto seek frequency
Alleviates frequency interference
Bear in Mind
Can be tricky to set up
A bit pricey
10. MyQ MYQ-G0301 Smart Garage Door Opener by Chamberlain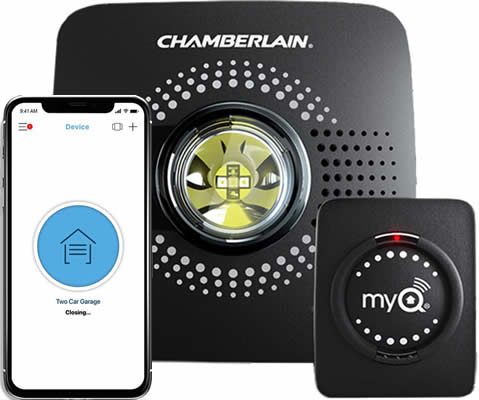 Why carry a remote when you always have a smartphone at your side? This opener allows you to operate it with your smartphone allowing you to use it from anywhere.
If you order from Amazon a lot, you can get Amazon packages delivered securely if you are opt-in with MyQ Smart Garage Hub. No more stolen packages from your porch.
You can also receive alerts and notifications on your phone app whenever a door opens or closes. Best of all you can use it with almost any opener and upgrade it significantly. You will need a router with a 2.4GHz frequency within 50ft of the Garage Hub.
You can also allow temporary access to up to three quests if you need to.
Reasons to Buy
Incredibly practical
Smart alarm system
Operable from anywhere
Safe deliveries or temporary access
Bear in Mind
Need a router within 50ft
Not working with home assistants
Where to Install Garage Door Keypad
If you found a few keypads that you like, I want to share some tips for installation. Mainly, I want to show the best places to install your keypad and what you should consider when installing one.
Weather protection: Sure, most of the keypads are weatherproof, or at least claim to be. However, it's still better to place them where they won't be exposed to weather, especially rain.
Height: Everyone in your household should be able to use it somewhat comfortably. You don't want to stretch out or bend down every time you use the keypad. If you want your kids to use it make sure they can reach it, or put it higher if you don't.
Location: Most people put the keypad right next to a garage, it seems logical, right? It doesn't always have to be the case. If you don't have a remote in your car, it's a good idea to install it on a pole or fence. This way you don't have to walk from your car.
Range: It varies from the keypad to the keypad, make sure to measure your desired location and check the range on the manual. Also, you should make a test before mounting it permanently, you're never too sure.
Frequently Asked Question
Whenever people discover what I do, they ask tons of questions about keypads for garage door openers. Here is a list of the 5 most frequent, but also important questions I hear or read about keypads.
Q: Can I use multiple keypads at the same time?
A: Well, it depends. Openers usually have a limit on how many keypads they can be connected to and sometimes it's only one. Make sure to check the manufacturer's instructions. On the other hand, you can use keypads of different brands at the same time if both of them are compatible with the opener you have.
Q: Should I have a garage door keypad?
A: I don't know anyone that regretted getting a garage door keypad. First of all, you will have easy access to your garage at all times. Remote controllers are nice, but we often forget them or can't find them. With the keypad, you can just scan your finger or enter the pin and open the sesame.
Q: How to set the garage door keypad?
A: It's pretty straightforward. You need to connect the keypad to the opener and program a security PIN code. Each model should have clear programming instructions for setting up a keypad.
Q: Can the keypad be a different brand from what I had before?
A: Absolutely, that's the biggest benefit of a universal garage door keypad. Just make sure the keypad and the opener are compatible.
Q: Can you use a garage door keypad for two doors or more?
A: Depends on the keypad, but most of them support that function. Most newer keypad models allow you to program up to 10 different PINs for different doors.
Final Thoughts
Keypads can make our life much easier for a fairly reasonable price. I hope that this article helped you get the best universal garage door keypad for your home. You will know how to recognize a good one.
If you have any questions, tips, or advice, feel free to leave your opinion in the comments.